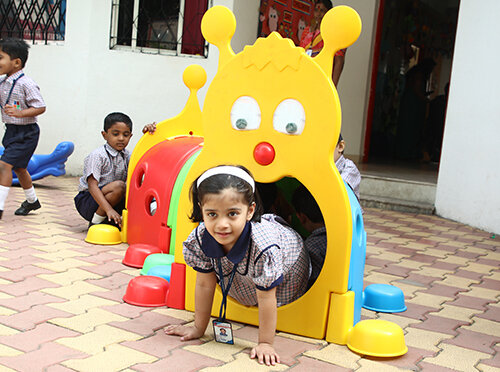 Facilities

ERP Portal
The portal serves as a bridge between parents & school and updates parents with all the happenings at school.

Security
The School Campus is well secured under 24/7 CCTV surveillance along with well trained security guards at all entry and exit points.

School Bus
Our school buses ply around 5-6 kms from school to provide safe, comfortable, timely transportation to students.

GPS Monitoring
The GPS enables proper monitoring of buses, their routes and speed. The students are escorted & assisted by a lady attendant in each bus.

Hi-Tech
A modern hi-tech enabled campus powered by speed broadband & internet connectivity Our smart classes are equipped with smart boards that enables teacher's to use appropriate multimedia content.

Uniforms
Our uniforms are designed keeping our little ones in mind; they are very comfortable and stylish to wear.

Play Learning
A variety of fun & educational toys that help kids develop diverse skills like motor skills, logical thinking & visual spatial skills. Here, children get to use their imagination & have a lot of fun.

Sand Pit
For young ones, the sandpit is where they build their dream castles. A small learning tool that develops motor skills, the stand pit acts as a wonderful play option.

Fire Safety
Fire extinguishers are mounted at conscious locations in corridors. A mock drill on Fire fighting is conducted for staff annually. Additionally, every bus has a fire extinguisher & a first aid box.

CPR Trained
As teachers are the backbone of every school and children are entirely dependent on them, we provide CPR trainings to all our staff members.

Pre-School Nutrition Program
School is like a second home to children & that's why we make sure their health prospers; we have monthly nutritional program called "Todd Nut" for our children explaining them about their nutritional needs by our Nutritionist.